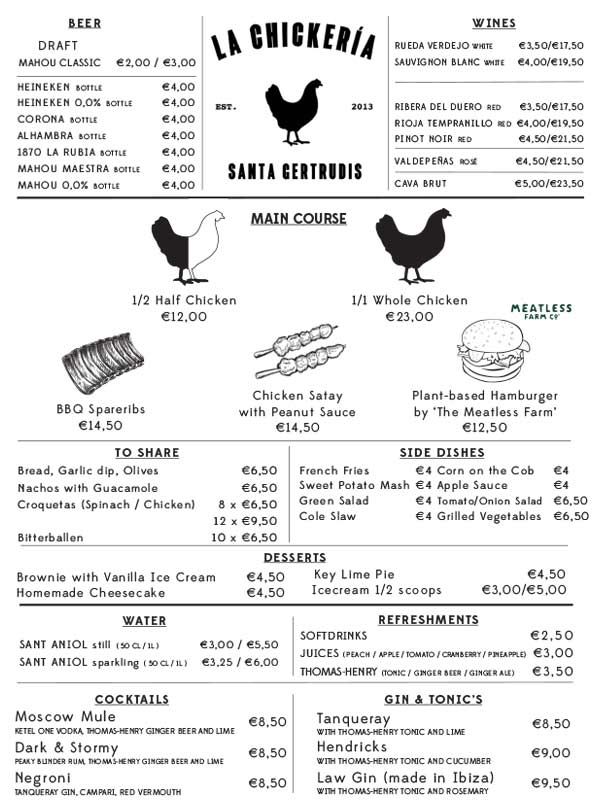 Our chicken is marinated in our delicious sauce consisting of over 30 herbs and spices, then cooked patiently on our rotisserie by our expert spitmasters to bring you a tender perfectly seasoned chicken. Yes, we're passionate about our chicken!
FREE-RANGE CHICKENS RAISED IN AN ANIMAL-FRIENDLY ENVIRONMENT
People are getting more and more interested in what they eat. We think that's great and we're happy to explain where our delicious chickens come from!
As soon as the sun comes up, our chickens get fresh water and feed on grains. These grains are 100% plant-based. Our chickens do not get any growth enhancers and are raised without the use of antibiotics.
We serve chickens that are born and raised in an organic way. They grow in stables where they have plenty of space. They get all the time and the attention they need to become healthy full-grown chickens.
Free range chickens, plenty of space, small scale facilities, no growth enhancers, free of antibiotics and processed traditionally.
For added peace of mind, all deliveries are taken with the outmost care, your rider will wear gloves and mask and disinfects transport before and after every delivery.
Lunch orders are to be made between 10h-13h, for delivery between 13.30h-14.30h,
Dinner orders can be made from 10h until 18h, for delivery between 18.30h-19.30h
Minimum order value: 30€
The chefs of La Chickeria get trained for weeks until they can officially carry the title "Spitmaster" and take on full responsibility of the grill. These extra skills make sure that every chicken that we serve gets the attention it deserves.
Although we are new on the island, the original idea for La Chickeria was born in Amsterdam in 2013 from our other restaurants in the Netherlands named "Van't Spit".
Before we opened our first restaurant in Amsterdam, it took us months of experimenting to establish the right way to season our chickens. The marinade consists of more than 30 different herbs and spices. A perfectly balanced sauce to accompany your naturally grown chicken.
Call us at +34 971 197 364 either to book a table or to order to take away.
Please consider our chicken takes around 20 minutes to be ready!
Open Mon. to Sun. from 12.30pm to 12:00am